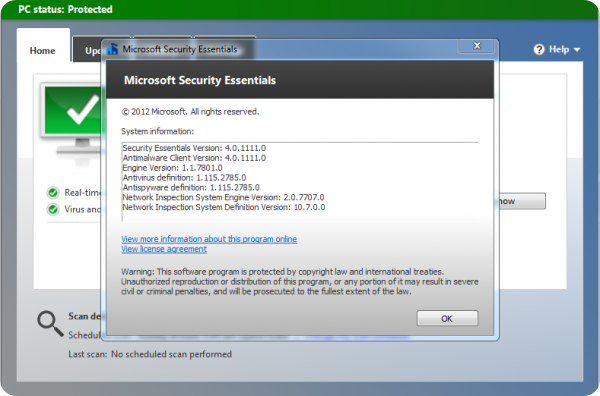 Tempo di novità in casa Microsoft, che in questi mesi è in grande fermento nel rilasciare prodotti molto attesi, come
SkyDrive per Windows
. Un altro prodotto di successo, ovvero
l'antivirus gratuito Microsoft Security Essential, raggiunge una nuova major release, piena di interessanti novità
.
Oggi abbiamo ricevuto il comunicato ufficiale che annuncia a tutti i beta tester il rilascio della versione definitiva, che rende pubbliche le nuove funzionalità.
Come recita la mail:
"During the next days, participants who installed the Security Essentials Beta and are subscribed to automatic updates will be upgraded to the final release of the latest version of Microsoft Security Essentials."
Quindi tutti coloro che hanno già installato la beta non dovranno far altro che attendere l'aggiornamento automatico, mentre tutti gli altri possono scaricarla dal sito ufficiale.
Ecco le principali novità introdotte nella nuova versione di Microsoft Security Essential 4.0:
Rimozione automatica del malware: adesso l'antivirus è capace di rimuovere non solo quei virus identificabili in uno o più file, ma anche quelli ad alto impatto sul sistema operativo, in modo del tutto automatico. Diventano quindi superflui i tool di rimozione specifici che si trovano in rete.

Protezione migliorata: il motore di rilevamento delle minacce è stato potenziato e aggiornato.

Performance maggiori: il software adesso non è solo più efficace, ma anche più leggero, riuscendo ad avere quindi un impatto minimo sulle prestazioni del PC.

Interfaccia semplificata: l'interfaccia utente di MSE è stata sempre molto facile da utilizzare, ma adesso diventa ancora più intuitiva.
Ricordiamo che su Windows 8 l'antivirus di Microsoft è incorporato, sotto il nome di Windows Defender, quindi questo prodotto è consigliato solo a coloro che hanno Windows 7, Vista o XP.