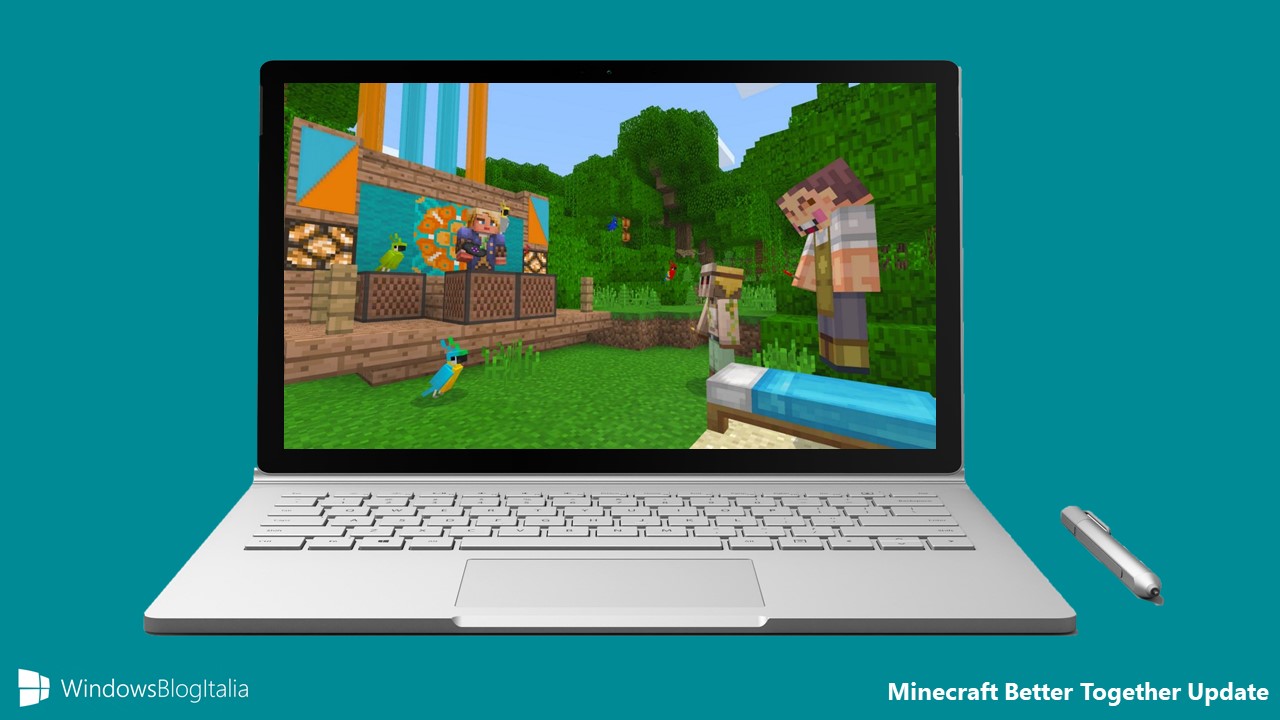 Better Together Update fu annunciato durante l'E3 2017. Si tratta di un aggiornamento che mira a unificare le versioni console, mobile e PC di Minecraft sotto un'unica edizione. È disponibile la beta per Windows 10 e Android ed è in arrivo su Xbox One.
AGGIORNAMENTO 2 | A distanza di nove mesi, il rilascio dell'aggiornamento alla nuova versione per Nintendo Switch è finalmente iniziato. Pertanto, a partire da oggi, i gamer Xbox e PC possono competere anche con i giocatori di Nintendo Switch, oltre che le altre piattaforme che supportano il cross-play.
The new version of Minecraft is out on Switch! Features cross-play with Xbox One, Windows 10, VR and mobile devices, plus the Super Mario Mash-Up pack! Already own Minecraft on Switch? You can update to the new version for free! Wa-hoo! https://t.co/KOAh99L46M pic.twitter.com/ZsskckOTx1

— Minecraft (@Minecraft) June 21, 2018
AGGIORNAMENTO 1 | Microsoft ha comunicato la fine della fase beta e l'inizio del rilascio della versione pubblica per tutti su Xbox, PC e smartphone. La versione per Nintendo Switch è in arrivo a fine anno.
Xbox has started rolling out now. Mobile/W10 will start tomorrow. Switch will release later this year – still working on connecting systems.

— Aubrey Norris (@Chupacaubrey) September 19, 2017
Better Together Update
Con il nuovo aggiornamento, gli utenti provenienti da diverse piattaforme potranno giocare insieme. Le novità incluse in questo update sono:
Stained Glass
Fireworks (with Elytra boost!)
Parrots
Banners
Armor stands
Jukebox and music discs
Recipe Book
Book and Quill
Ravines
COARSE DIRT – O to the M G
New world start options: Starting Map, Bonus Chest, Trust Players
New game rules: TNT Explodes, Natural Regeneration
Added '/tickingarea' command to create areas that still update when no players are there
Player permissions
Zombie Villager spawn egg
In-game host options
New loading screens with funny and helpful tips
How to Play screen
Remix 3D and structure blocks
Split-screen (Console only)
World conversion
Come partecipare alla beta
Vi ricordiamo che la beta è disponibile per PC Windows 10 e Android. Nei prossimi giorni sarà disponibile anche per Xbox One. Per partecipare alla beta bisogna essere possessori di una copia digitale di Minecraft.
Windows 10 e Xbox One
Installate e aprite Xbox Insider Hub.
Recatevi in Insider Content e cliccate su Minecraft Beta.
Cliccate Join.
Android
Recatevi a questo indirizzo e accettate di partecipare alla beta diventando tester.
Attendete l'aggiornamento di Minecraft.
Se siete possessori di Minecraft: Xbox One Edition o Minecraft: Nintendo Switch Edition riceverete la nuova edizione gratuitamente. Una delle funzioni che più apprezziamo è l'integrazione con Paint 3D. In questo modo, potrete esportare le vostre opere per un'eventuale stampa in 3D. Parteciperete alla beta del Better Together Update? Fatecelo sapere lasciando un commento.
Articolo di Windows Blog Italia
Fonte | Minecraft