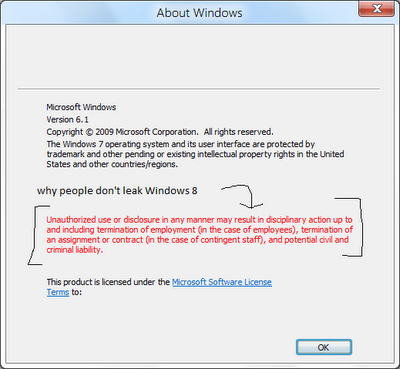 Tre nuovi screenshot di Windows 8 sono stati pubblicati sul Forum di BetaArchive. Si tratta di Build definibili come "Microsoft Confidential" (Cit. ******), perché nella finestra About Windows e sul Desktop, sopra la watermark col numero di build, è presente una intimidazione a far trapelare Windows 8: nelle normali build non è presente questo messaggio.
Lo screenshot in alto, scattato probabilmente ad una build di Windows 8 del ramo Milestone 1 reca addirittura in rosso l'intimidazione che recita:
"Unauthorized use or disclosure in any manner may result in disciplinary action up to and including termination of employment (in the case of employees), termination of assignment or contract (in the case of contingent staff), and potential civil and criminal liability."
Tradotto:
"L'uso non autorizzato

o

la divulgazione

di qualsiasi genere

può

portare ad azioni

disciplinari

fino al

licenziamento

(nel

caso

di dipendenti

)

, la cessazione

del contratto

(nel

caso

di personale contingente

)

,

e accuse di

responsabilità civile e penale

."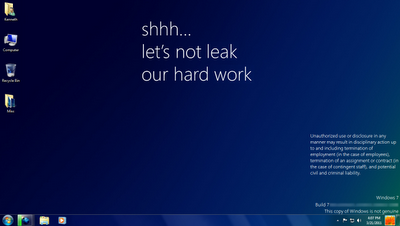 La stessa intimidazione è riportata anche sopra il watermark di questi altri due, più recenti, screenshot, scattati quasi sicuramente da una build del ramo Milestone 3.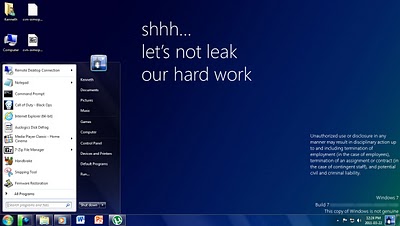 Capirete bene che chi ha avuto o ha la possibilità di provare Windows 8 sicuramente non metterebbe a rischio il suo lavoro per condividere il nuovo sistema operativo sviluppato da Microsoft.