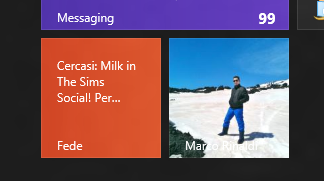 Con questa guida spiegheremo una funzione dell'applicazione People di Windows 8 che in pochi conoscono, ma che si rivela davvero molto comoda, soprattutto per chi è abituato alla schermata di Start di Windows Phone 7.
Infatti, proprio come sul sistema mobile Microsoft, anche in Windows 8 è possibile pinnare a Start il live tile di un nostro contatto Facebook, Twitter, Messenger o tutti e tre insieme.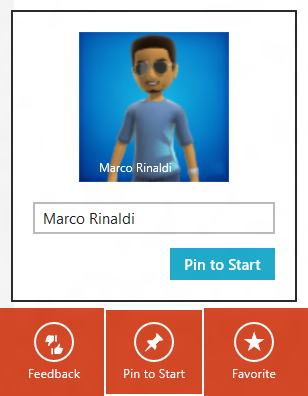 Entrate nell'app People.
Aprite la Charm Bar e cliccate su Search.
Cercate il contatto che vi interessa ed apritelo.
Cliccate col tasto destro nella schermata del contatto e in basso scegliete Pin to Start.
Scegliete il nome da visualizzare e ripremete il nuovo Pin to Start per aggiungere il tile.
Semplice, ma poco intuitivo, vero? Comunque speriamo che presto venga aggiunta anche la possibilità di espandere il tile così da contenere più informazioni e novità sui nostri contatti pinnati a Start.