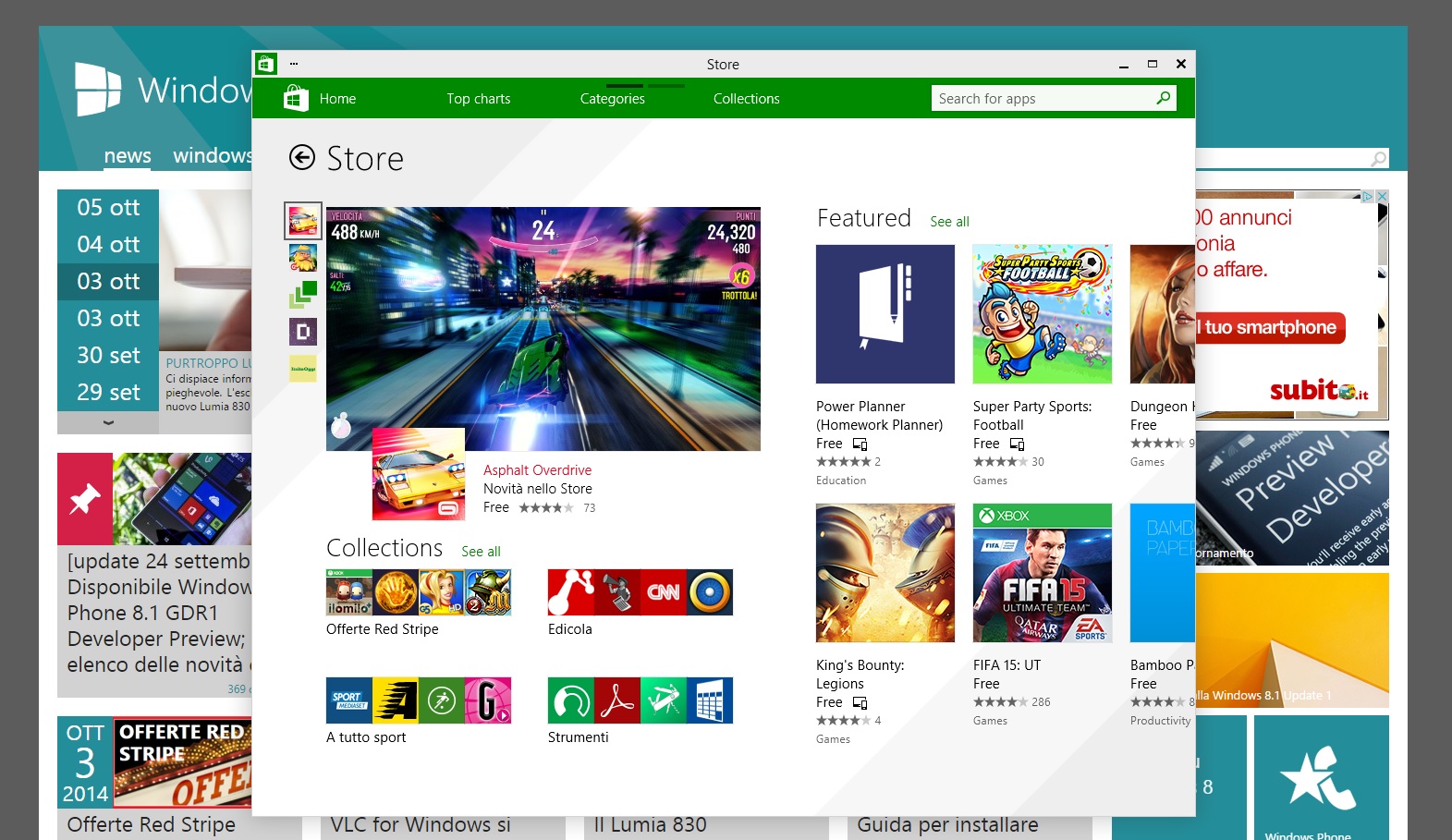 AGGIORNAMENTO | Microsoft ha ufficializzato le novità in arrivo per gli Store unificati. I dettagli in questo articolo.
Come vi abbiamo già riportato in precedenza, una delle novità di Windows 10 sarà l'unificazione definitiva degli Store – One Store – grazie ad app sempre più Universali. Ma Microsoft ha già reso note ulteriori feature in arrivo sul Windows Store.
In un post sul blog di MSDN – poi cancellato – Microsoft ha rivelato alcune novità in arrivo nella versione definitiva del sistema operativo, tra le quali miglioramenti per le aziende, ma anche indiscrezioni su nuove funzionalità dello Store.
"The (new) Windows Store will also support more than just modern apps. It will add desktop apps, as well as other types of digital content. We will provide many different ways to pay for apps. And we'll provide an organization store within the public Windows Store, where an org can place their own curated list of public apps as well as specific line-of-business apps that their employees need."
Il nuovo Windows Store fungerà da contenitore unico per l'intera piattaforma – PC, tablet, telefoni e console. La novità principale quindi è che lo Store non sarà basato unicamente su app Metro, ma su tanti contenuti diversi, inclusi gli applicativi Desktop. Verranno inoltre introdotte nuove forme di pagamento e una nuova organizzazione all'interno dello Store stesso, con delle aree dedicate a società che vorranno creare delle proprie liste di applicazioni pubbliche o addirittura private, strizzando l'occhio al mondo enterprise. Che ne pensate?
Articolo di Windows Blog Italia
Fonte | ZDNet