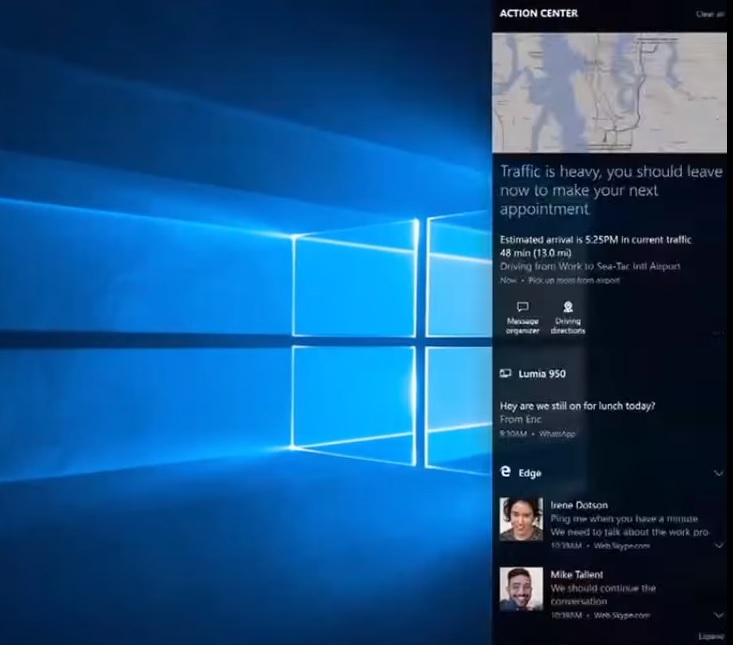 Oltre alle novità annunciate ieri alla conferenza Build 2016, molte altre riguardano l'Anniversary Update SDK: gli sviluppatori, infatti, presto avranno la possibilità di implementare nuove interessanti funzioni nelle loro app, in particolare per il nuovo Centro notifiche.
Demo notifiche sincronizzate tra Windows 10, Windows 10 Mobile e Android
Tramite alcune indiscrezioni abbiamo già visto alcune funzioni in arrivo, ma c'è dell'altro. Il nuovo Centro notifiche di Windows 10 sarà sincronizzato su ogni dispositivo dell'utente. In questo modo, eliminando una notifica da un device, sparirà anche dagli altri. Nell'immagine in alto potete proprio vedere un esempio di notifica ricevuta su un Lumia 950.
"Action center in the cloud: enables your app to engage with users on all their devices. You can now dismiss notifications on one device and they will be dismissed everywhere."
Ma non è tutto, ecco le altre novità in arrivo nel nuovo Action center:
Schede applicazioni: in alto potete vedere quella dell'app Mappe, con pulsanti integrati direttamente nel Centro notifiche.
Notifiche da Microsoft Edge.
Segnalazione delle notifiche migliorata, con numero e tipo di app.
Raggruppamento delle notifiche delle app.
Un'altra novità, invece, tocca un punto dolente dei telefoni con Windows 10 Mobile, l'esecuzione delle app in background. Ne verrà migliorata la gestione, rendendole più potenti e più semplici da sviluppare.
"Background execution: we are bringing the ability to run your application in the background without requiring two separate processes. Along with extended execution and opportunistic tasks, writing applications that run when they need to will become simpler and more powerful."
Forse Microsoft non farà di Windows 10 Mobile il suo cavallo di battaglia quest'anno, ma di certo lo sviluppo di Windows 10 e OneCore procederà su tutti i dispositivi. Sta facendo un buon lavoro secondo voi?
Articolo di Windows Blog Italia
Fonte | Microsoft