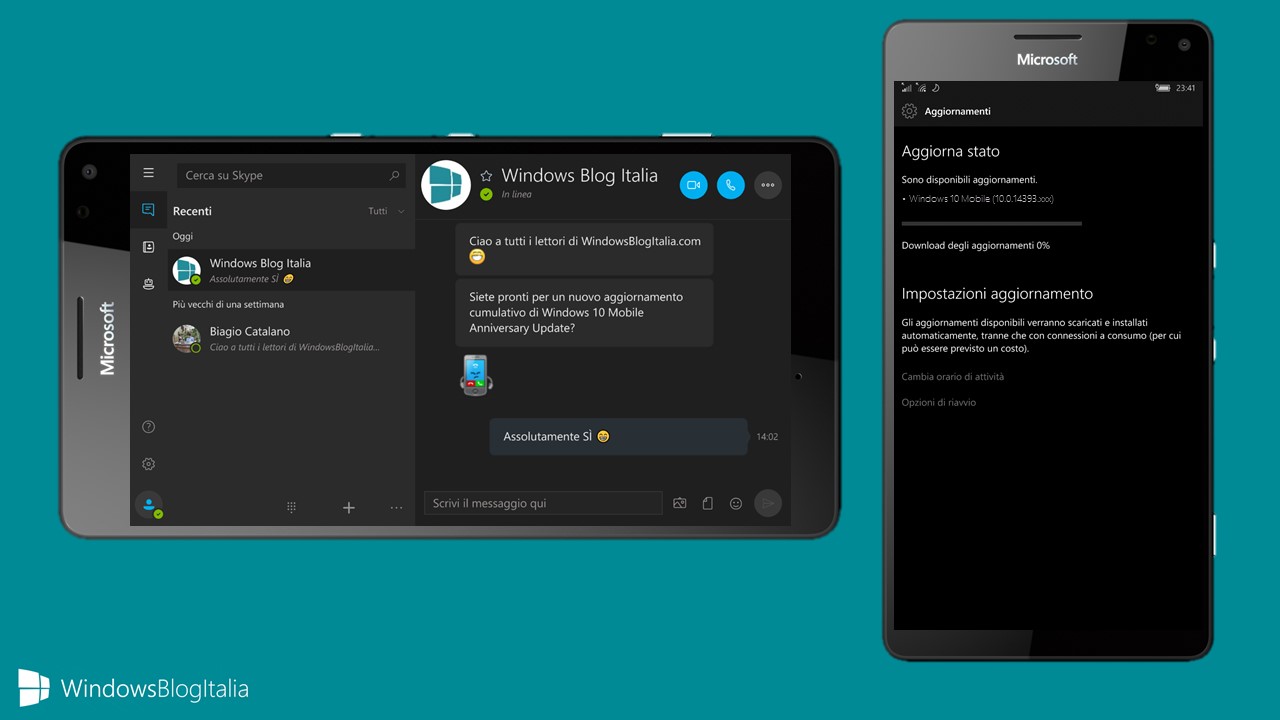 Microsoft ha appena iniziato la distribuzione di Windows 10 Mobile Build 14393.3, un nuovo aggiornamento cumulativo per Windows 10 Mobile Anniversary Update. Qui di seguito trovate la guida all'installazione e l'elenco delle novità rispetto alla precedente build.
NOTA 1 | Gli aggiornamenti ufficiali di Windows 10 Mobile sono ora disponibili anche per Lumia 1520, 930, 640, 640 XL, 730, 735, 830, 532, 535, 540, 635 1 GB, 636 1 GB, 638 1 GB, 430, 435, BLU Win HD w510u, BLU Win HD LTE x150q, MCJ Madosma Q501 oltre che per i Lumia 950, Lumia 650 e 550 e Xiaomi Mi4.
NOTA 2 | L'aggiornamento è al momento disponibile sul canale Fast per chi ha già installato la build 14393 di Windows 10 Mobile.
Guida all'installazione
L'aggiornamento è installabile in tutti gli smartphone nativi Windows 10 Mobile e in tutti quelli delle precedenti generazioni (Windows Phone 8) che supportano ufficialmente l'aggiornamento a Windows 10 Mobile. Per installare le versioni di anteprima di Windows 10 Mobile destinate agli Insider:
Scaricate dal Windows Store Mobile l'app Windows Insider.
Avviatela.
Premete Microsoft Account.
Accedete con il vostro Microsoft Account e premete Get preview builds.
Selezionate Insider Slow o Insider Fast.
Premete accept e attendete il riavvio automatico del telefono.
Entrate nelle Impostazioni del telefono, quindi nella sezione aggiornamenti.
Premete cerca aggiornamenti: a questo punto inizierà la ricerca dell'update – l'operazione potrebbe durare anche diversi minuti.
Appena l'avrà trovato, avviate il download (nel caso in cui non sia impostato su automatico) e autorizzate l'installazione, che comporterà il riavvio del telefono.
Tenete presente che le versioni di anteprima destinate agli Insider sono instabili e mal tradotte in italiano: ne sconsigliamo l'installazione nello smartphone principale. Potrete invece provarle in totale sicurezza installandole in un secondo smartphone dedicato ai test.
Novità di Windows 10 Mobile Build 14393.3
We have fixed an issue where keyboard input on some Windows tablet devices would not rotate to landscape normally.
We have fixed an issue that results in Windows Updates being delayed on systems with Connected Standby.
We have fixed a problem with text input with Korean Input Method Editor (IME) in some Store apps.
We fixed an issue causing Store apps to stop launching due to a licensing issue.
We have fixed an issue with apps that synchronize using DDE for inter-process communication.
Articolo di Windows Blog Italia

Non dimenticate di scaricare la nostra app per Windows e Windows Mobile, di seguirci su Facebook, Twitter, Google+, YouTube, Instagram e di iscrivervi al Forum di supporto tecnico, in modo da essere sempre aggiornati su tutte le ultimissime notizie dal mondo Microsoft.