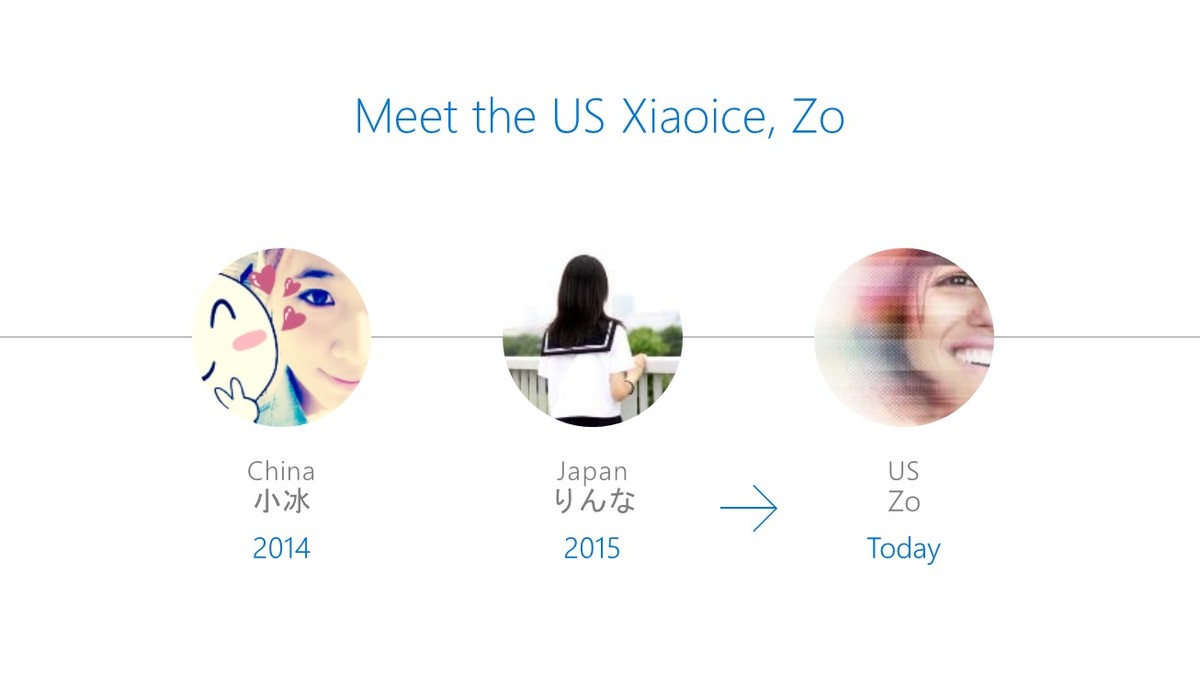 Dopo il clamoroso fallimento dell'esperimento social Tay, la nuova versione dell'intelligenza artificiale di Microsoft si è evoluta in Zo. L'obiettivo è quello di gettare le basi per la creazione di una social chatbot su larga scala. Erede delle esperienze degli scorsi anni sul mercato orientale, l'obiettivo di questo esperimento è quello di formare una AI in grado non solo di incrementare il proprio quoziente intellettivo, ma anche quello emotivo, in grado quindi di interpretare e meglio elaborare le relazioni fra macchina ed essere umano.
It's a very personal experience. We're really moving from a world where we have to understand computers to a world where they will understand us and our intent, from machine-centric to human-centric, from perceptive to cognitive and from rational to emotional.
L'intelligenza che permea il bot è la stessa integrata all'interno delle AI rilasciate negli anni scorsi in Cina (Xiaoice) e Giappone (Rinna). Zo, come i suoi predecessori, è ideato per apprendere dalle proprie conversazioni con gli utenti, interagendo con essi in maniera autonoma, secondo la propria personalità.
There are two sides to conversational AI — the task-completion or productivity side and the emotional side. You need both to truly realize the promise of AI. Microsoft's long-term strategy is that agents like Cortana will not only have IQ but also have EQ, and that idea has fueled some groundbreaking work the company is doing with chatbots. The next chapter in this evolution is Zo.
Nel caso voleste avere un assaggio (rigorosamente in lingua inglese) delle capacità di Zo, è possibile iniziare una conversazione con il robot su Kik Messenger, nonostante Microsoft abbia in programma di portare questa tecnologia anche su Skype e Facebook Messenger.
Microsoft è al lavoro per migliorare il rapporto che intercorre fra macchina ed essere umano, in maniera da poter ottimizzare la capacità della propria intelligenza artificiale di interfacciarsi con l'utente finale. Capacità che probabilmente verrà anche integrata all'interno di Cortana, l'assistente vocale che durante il corso del prossimo anno (e oltre) verrà messo al centro della politica di sviluppo dell'azienda.
Cosa pensate dell'attenzione di Microsoft verso la propria AI? Fatecelo sapere nei commenti.
Articolo di Windows Blog Italia