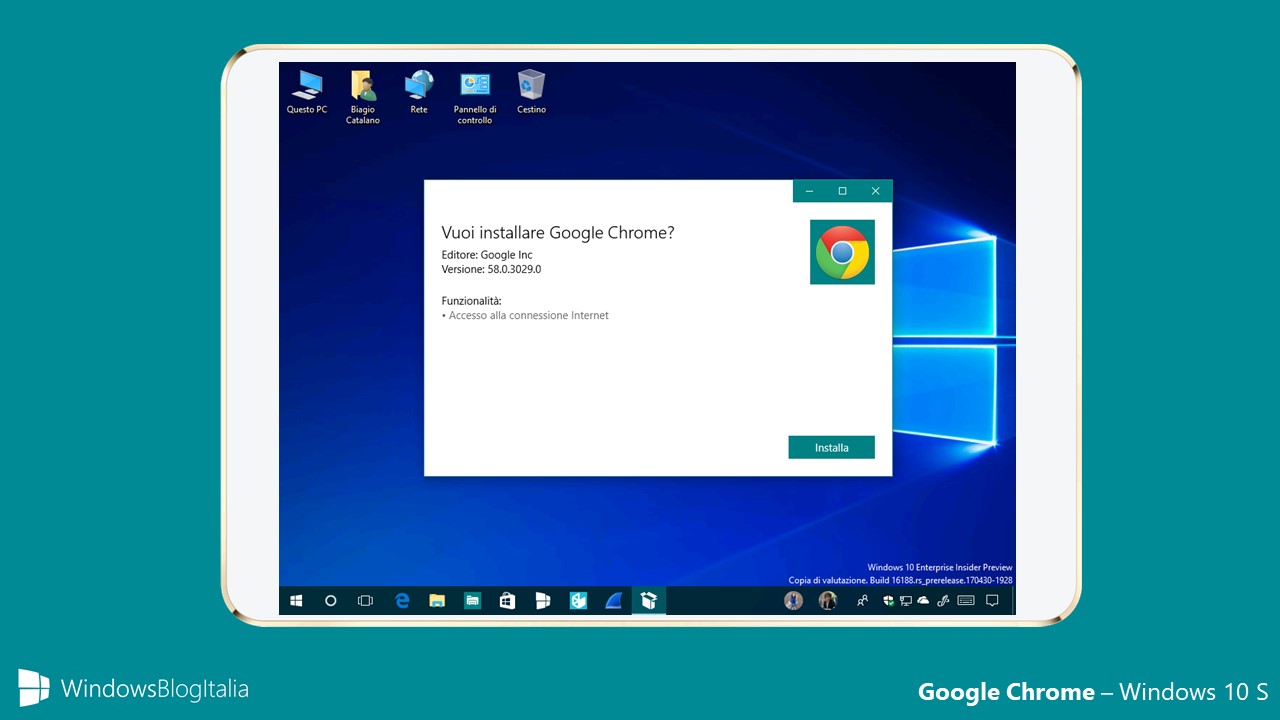 Al contrario degli altri programmi convertiti, per approdare nel Windows Store, Google Chrome e altri browser non potranno essere installati sui dispositivi equipaggiati con Windows 10 S.
Come affermato all'interno delle Policy del Windows Store, Windows 10 S non consentirà l'installazione dallo Store di browser basati su tecnologie di elaborazione HTML e JavaScript di terze parti.
10.2 Security
Your app must not jeopardize or compromise user security, or the security or functionality of the device, system or related systems.

10.2.1
Apps that browse the web must use the appropriate HTML and JavaScript engines provided by the Windows Platform.
Alla stessa maniera di Apple con i dispositivi iOS e Google con ChromeOS, qualunque browser che punti a entrare a far parte del Windows Store dovrà essere basato su gli interpreti HTML e JavaScript già integrati da Microsoft, in modo da migliorare la sicurezza del sistema operativo stesso. Per pubblicare sul Windows Store un browser, quest'ultimo dovrebbe appoggiarsi esclusivamente alle tecnologie fornite dalla stessa Microsoft.
Desktop Browsers installed from the Store aren't more secured by default. They are secure only if, like Edge, they're true UWP apps, so they run in a sandbox environment and they don't have access to the overall system. Converted apps, instead, have some components which are virtualized (like the registry or file system redirection) but, except for that, they have the "runFullTrust" capability, so [they] can go out from the sandbox and perform operations that can be malicious.
L'unica alternativa valida che consentirebbe a grandi aziende come Google o Mozilla di pubblicare sullo Store il proprio prodotto implicherebbe una totale riscrittura del programma per renderlo conforme alle Policy imposte dall'azienda di Redmond. Un vero peccato – come abbiamo potuto provare, la conversione in app del browser di Google è attuabile con successo in pochi istanti e senza modifiche grazie al tool per il porting Desktop Bridge, meglio noto come Project Centennial.
Se da un lato le ferree condizioni imposte da Microsoft possono consentire una migliore sicurezza del proprio sistema operativo, dall'altra l'assenza di browser del calibro di Google Chrome su Windows 10 S potrebbe scoraggiare alcuni utenti a utilizzare la nuova versione del sistema operativo di Microsoft. D'altra parte, gli utenti non soddisfatti da tali restrizioni potranno facilmente passare a Windows 10 Pro.
Cosa pensate delle restrizioni imposte da Microsoft in questo ambito? Fareste a meno del vostro browser preferito – a patto che questo non sia Microsoft Edge – per un sistema operativo più sicuro? Fatecelo sapere nello spazio dedicato ai commenti.
Articolo di Windows Blog Italia
Fonte | ZDNet