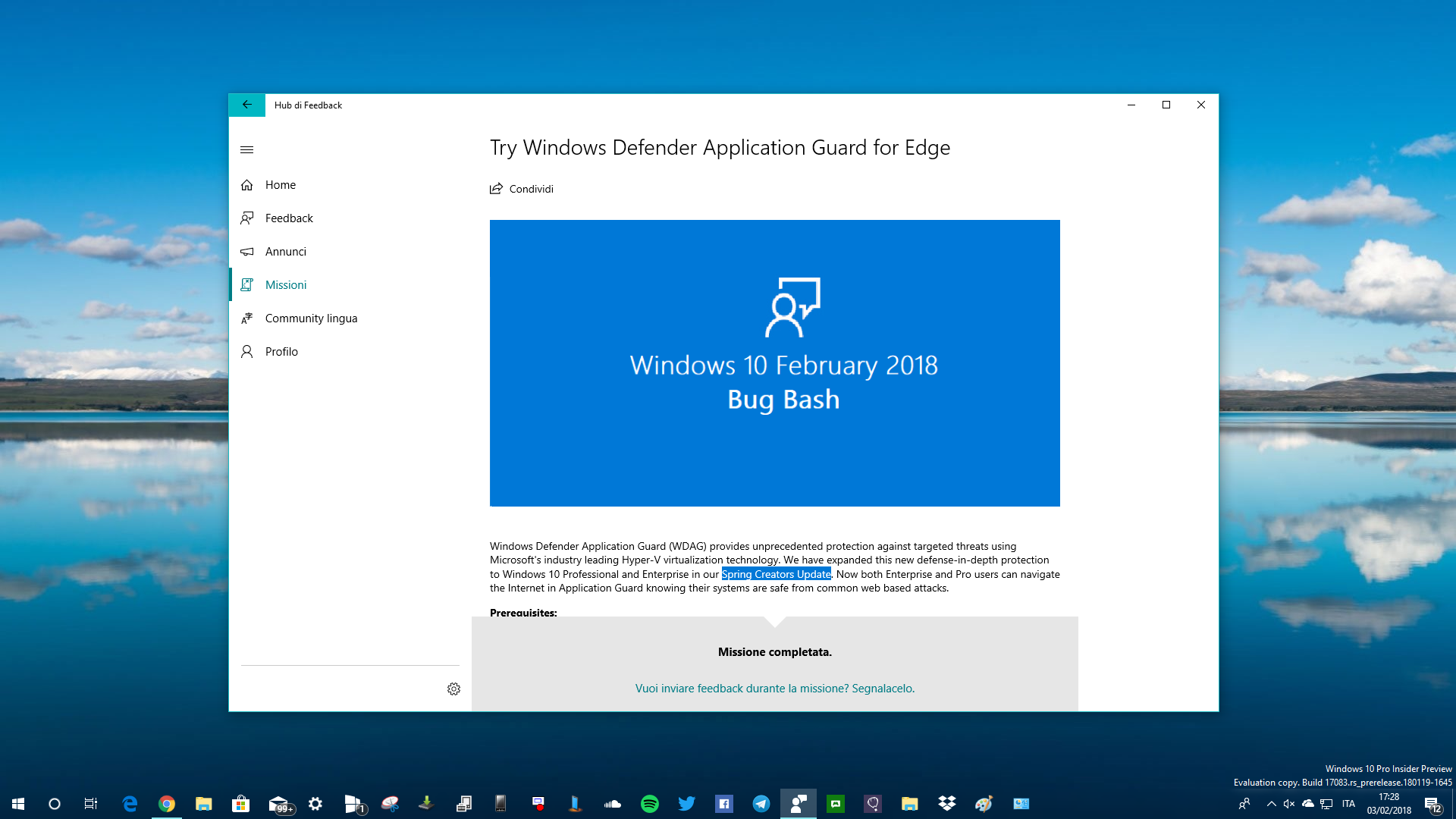 Microsoft si prepara al rilascio del prossimo aggiornamento di Windows 10 in primavera e, senza troppe sorprese, dovrebbe chiamarsi proprio Spring Creators Update. Ma sono in arrivo anche altri cambiamenti nelle edizioni di Windows 10.
Benvenuto Spring Creators Update, addio Windows 10 S
Se Redstone 4 sarà molto probabilmente e abbastanza ovviamente ribattezzato Windows Spring Creators Update (come indica la stessa Microsoft nelle quest di Bug Bash), per via della data del suo rilascio, pare ci siano ulteriori sorprese. Come vi avevamo già riportato in anteprima, stiamo per dire addio anche a Windows 10 S, anche se solo formalmente. Microsoft ha in mente di creare una modalità S per le edizioni Pro e Home, la prima aggiornabile a Pro a pagamento per 49 $, la seconda gratuitamente.
Windows 10 S, l'edizione più veloce della storia a essere eliminata?
Ci sarebbero novità anche tra le edizioni di Windows che verranno proposte ai produttori partner, che avranno prezzi diversi a seconda del tipo di device e della configurazione, dai 25 $ della Entry fino ai 214 $ della Advanced:
Entry – Intel Atom/Celeron/Pentium ≤ 4GB RAM & ≤ 32GB SSD AND ≤ 14.1" screen size (NB), ≤ 11.6" (2in1, Tablet), ≥ 17" AiO
Value – Intel Atom/Celeron/Pentium ≤ 4GB RAM & ≤64GB SSD & ≤ 14.1" screen size (EM ≤ 4GB RAM & ≤64GB SSD or ≤ 500GB HDD)
Core – Cannot be used on devices that meet the Core+ and Advanced SKU Hardware Specifications
Core+ – High end CPU and >4 GB RAM (All Form Factors) ≥8 GB RAM & ≥1080p screen resolution (NB, 2in1, AiO) >8 GB RAM & ≥2TB HDD or SSD storage (Desktop)
Advanced – Intel Core i9 (any configuration) OR Core i7 ≥ 6 Cores (any RAM) OR AMD Threadripper(any configuration) OR Intel Core i7 >16GB (any Cores) or AMD FX/ Ryzen7 >16GB (any Cores) OR ≥ 4K screen resolution (any processor, includes 4K UHD-3840 resolution
Inoltre, Microsoft starebbe rivalutando completamente la strategia che ruota intorno a Windows 10, sempre più "come un servizio" e sempre più modulare. La strategia sarà suddivisa in questi segmenti:
Modern premium – Which competes with Apple MacBook Pro.
Modern mainstream – Which competes with Apple MacBook, iPad Pro, and Chromebook.
Modern entry – Which competes with Chromebook.
Gaming and Mixed Reality – Which really has no competition, though Microsoft lists Apple here.
Always Connected PCs – A new segment that will include both Intel and ARM offerings and will offer smartphone-like battery, standby, and connectivity capabilities.
Cortana-based devices – This is an interesting appearance, given that there is just one in the market. But obviously, Cortana devices ostensibly competes with a wide range of smart devices.
Articolo di Windows Blog Italia
Fonte | Thurrott