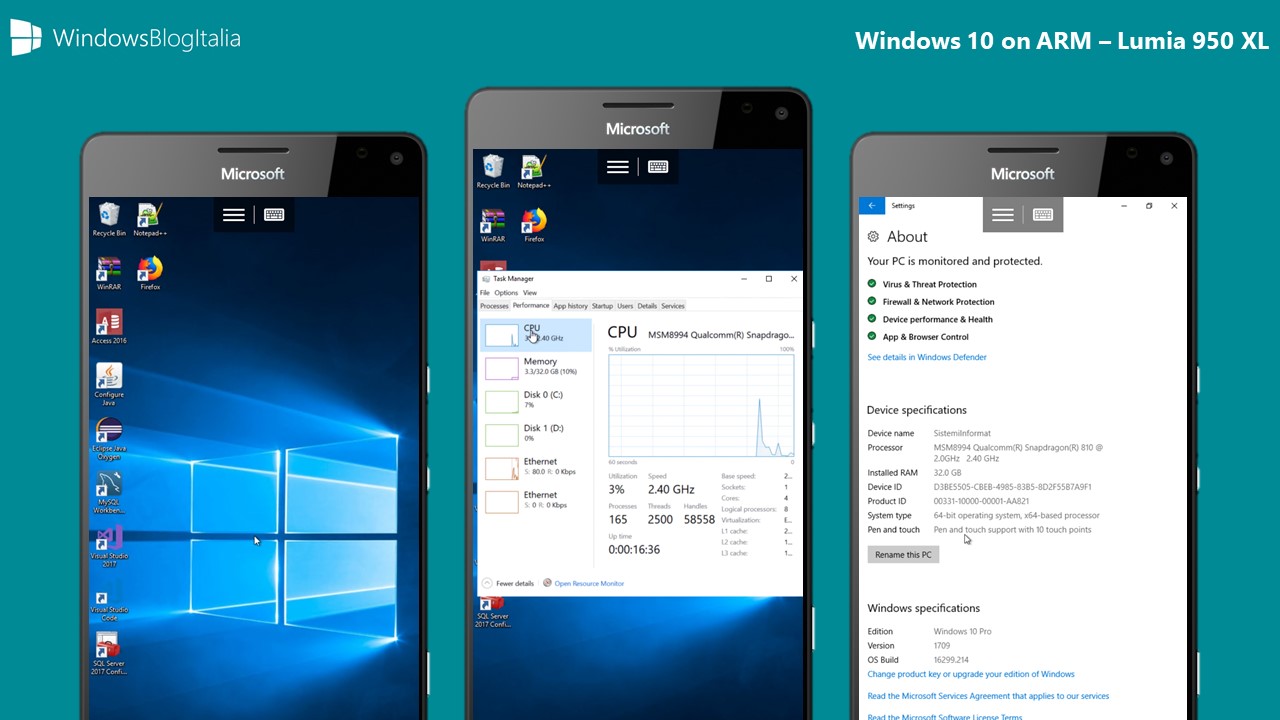 Dopo il porting di Windows RT, Windows 10 on ARM potrebbe arrivare – non ufficialmente – anche nei Lumia 950. Diversi componenti della community si stanno cimentando da mesi nell'eseguire la versione di Windows 10 per dispositivi ARM su alcuni smartphone Windows 10 Mobile.
AGGIORNAMENTO | Dopo il video dell'avvio, un nuovo clip dal medesimo autore ci mostra Windows 10 on ARM in azione sul Lumia 950.
The phone that can replace your PC(?) pic.twitter.com/OC9XBeWkdT

— Ben | imbushuo (@imbushuo) May 12, 2018
Windows 10 on ARM in un Lumia
Lo smartphone è dotato di un processore Qualcomm Snapdragon 810, 4 GB di memoria RAM e 32 GB di SSD. Il sistema operativo desktop è stato installato ed è in grado di avviarsi tranquillamente. Al momento si tratta di procedure laboriose, non alla portata di tutti, tuttavia questi esperimenti mostrano la duttilità di Windows 10 e una prospettiva tangibile di poterlo presto vedere in azione su un dispositivo mobile.
— Ben | imbushuo (@imbushuo) May 3, 2018
Cosa ne pensate di Windows 10 on ARM su un Lumia? Lo installereste? Fatecelo sapere nei commenti.
Articolo di Windows Blog Italia