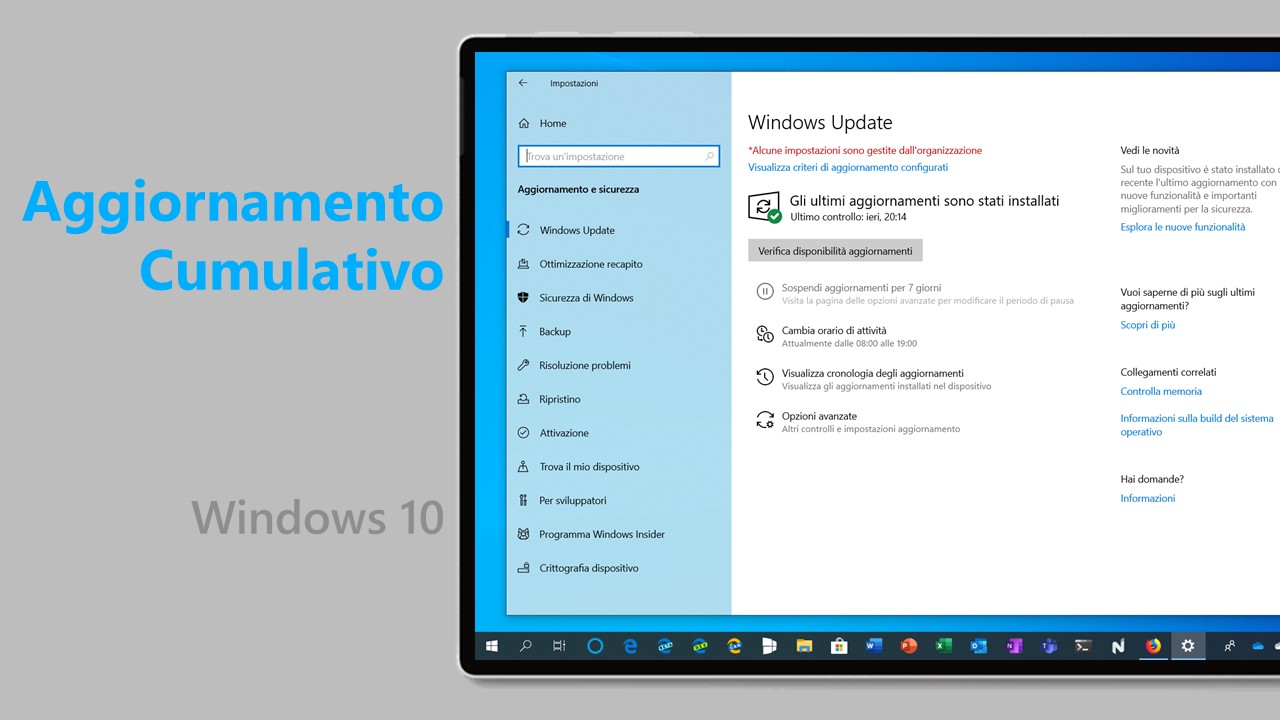 È disponibile un nuovo aggiornamento cumulativo per Windows 10. Microsoft ha infatti appena rilasciato l'aggiornamento cumulativo per l'attuale versione ufficiale del suo sistema operativo e quelle precedenti. Come al solito è disponibile tramite Windows Update.
16 SETTEMBRE 2019 | In seguito al rilascio dell'aggiornamento cumulativo del 10 settembre, Microsoft ha distribuito l'aggiornamento qualitativo speciale KB4516421 solamente per alcuni utenti con un fix importante circa la registrazione audio via USB con microfono e app. L'aggiornamento si installa automaticamente.
Risolve un problema in cui alcuni clienti potrebbero non essere in grado di utilizzare microfoni multicanale USB Audio 2.0 in Voice Recorder e app simili.
NOTA | Disponibile anche nei canali Insider Release Preview in versione 19H1 e 19H2.
L'aggiornamento cumulativo, scaricabile da tutti gli utenti di Windows 10 May 2019 Update, prende il nome di KB4515384 e porta con sé ulteriori correttivi, miglioramenti della stabilità, della sicurezza e dell'esperienza di aggiornamento a Windows 10.
Elenco correzioni e miglioramenti Windows 10 Build 18362.356 e 18363.356
Provides protections against a new subclass of speculative execution side-channel vulnerabilities, known as Microarchitectural Data Sampling, for 32-Bit (x86) versions of Windows (CVE-2019-11091, CVE-2018-12126, CVE-2018-12127, CVE-2018-12130). Use the registry settings as described in the Windows Client and Windows Server articles. (These registry settings are enabled by default for Windows Client OS editions and Windows Server OS editions.)
Addresses an issue that causes high CPU usage from SearchUI.exe for a small number of users. This issue only occurs on devices that have disabled searching the web using Windows Desktop Search.
Security updates to Microsoft Edge, Internet Explorer, Microsoft Scripting Engine, Windows App Platform and Frameworks, Windows Input and Composition, Windows Media, Windows Fundamentals, Windows Authentication, Windows Cryptography, Windows Datacenter Networking, Windows Storage and Filesystems, Windows Wireless Networking, the Microsoft JET Database Engine, Windows Kernel, Windows Virtualization, and Windows Server.
Non dimenticatevi che gli aggiornamenti cumulativi sono presenti anche nel nostro Forum, nella sezione Windows 10 PC e tablet > Download > Windows 10 RTM Cumulative Update disponibile a questo indirizzo.
Articolo di Windows Blog Italia