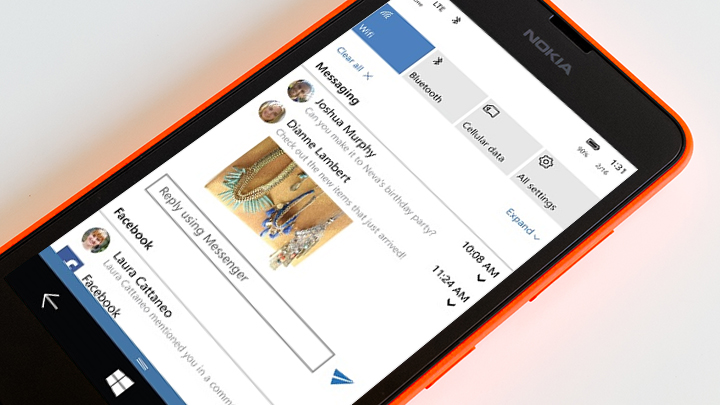 Due settimane fa vi abbiamo parlato di Windows 10 Mobile e della sua disponibilità su tutti i terminali Windows Phone 8 attualmente sul mercato. Pochi minuti fa Joe Belfiore, in tre tweet ravvicinati, ci ha dato qualche dettaglio in più.
Hey all: we ARE working on Win10 for 512MB, including 520. Our ambition is to make #Win10 available for these devices but features may vary

— joebelfiore (@joebelfiore) 8 Febbraio 2015
In questo primo tweet, che forse a qualcuno farà storcere il naso, veniamo messi al corrente che il team di Microsoft sta lavorando molto per rendere compatibile Windows 10 con i telefoni con 512 RAM, incluso il 520 (uno dei telefoni più venduti), ma le funzionalità potrebbero variare in base alla portata del singolo telefono.
Timing for various phones may be variable as well. When we first launch insider program, it'll be a subset of phones with more coming latr— joebelfiore (@joebelfiore) 8 Febbraio 2015
Nel secondo tweet veniamo informati sulla modalità di rilascio della Technical Preview per telefoni. Infatti la build sarà rilasciata gradualmente, tramite il programma Insider, iniziando con una serie di telefoni per poi arrivare su altri successivamente.
Also, we're on track for Insider build coming "in Feb" as Terry said at our 1/21 event. We need to complete internal testing 1st, hang in!— joebelfiore (@joebelfiore) 8 Febbraio 2015
Nel terzo tweet la notizia che tutti aspettavamo: la build per gli Insider arriverà molto presto, non appena saranno terminati i test interni.
Quali sono le vostre opinioni? Fatecele sapere nei commenti all'articolo.
AGGIORNAMENTO | Con un quarto tweet Gabriel Aul chiarisce che la Preview è in arrivo su alcuni device con 512 MB di RAM già da subito.
@Xbenja42 @joebelfiore Yes, we'll have some 512mb devices supported for first build. — Gabriel Aul (@GabeAul) 8 Febbraio 2015
Articolo di Windows Blog Italia
Fonte | Joe Belfiore