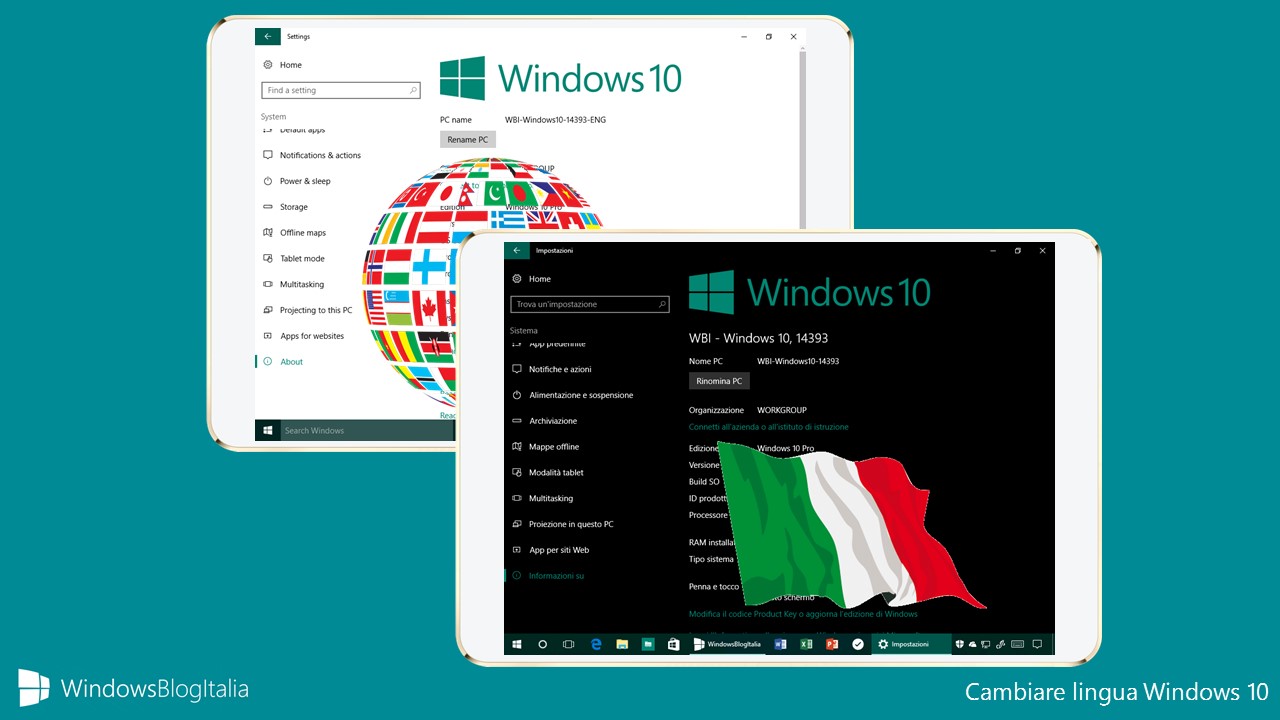 Se avete comprato un PC/tablet Windows 10 da un sito estero e il dispositivo non ha l'italiano tra le lingue installate, non preoccupatevi: grazie a questa guida potrete rimediare alla mancanza della lingua italiana.
PREREQUISITI
Il PC/tablet deve essere aggiornato a Windows 10 Anniversary Update. Potete scaricare le .ISO aggiornate dal nostro Forum nella sezione Windows 10 PC e tablet > Download > Windows 10 RS1 RTM ISO raggiungibile a questo indirizzo.
Scaricate il language pack italiano di Windows 10 Anniversary Update da questo indirizzo (password – WindowsBlogItalia-PWI7pp8Sdn).
Scaricate eventualmente il language pack contenente tutte le lingue di Windows 10 Anniversary Update da MSDN a questo indirizzo.
Nome file: mu_windows_10_language_pack_version_1607_updated_jul_2016_x86_x64_dvd_9058649.iso
Lingue: English, Japanese, Korean, Arabic, Bulgarian, Czech, Danish, German, Greek, Spanish, Estonian, Finnish, French, Hebrew, Croatian, Hungarian, Italian, Lithuanian, Latvian, Dutch, Polish, Portuguese-Brazil, Romanian, Russian, Slovak, Slovenian, Serbian, Swedish, Thai, Turkish, Ukrainian, Chinese – Traditional, Chinese – Simplified, Portuguese-Portugal, Norwegian-Bokmal
SHA1:B40F2D5F3B381E00DFD3A25228BC046BD1FBD6B7
METODO 1 – ESTRAZIONE PRODUCT KEY E INSTALLAZIONE PULITA
Il seguente metodo per cambiare lingua di Windows 10 è valido per i PC/tablet con UEFI:
Digitate nel box di ricerca di Cortana cmd (o in alternativa Prompt dei comandi).
Tale comando mostra il codice product key preinstallato nel PC. Annotatelo da qualche parte ed eseguite un'installazione pulita di Windows 10.
DRIVER | I driver per alcuni piccoli tablet cinesi non sono disponibili al download. Prima di procedere con la guida, munitevi dei driver specifici per il device.
METODO 2 – CAMBIARE LINGUA CON UN LANGUAGE PACK
Il seguente metodo per cambiare lingua di Windows 10 è valido per tutti PC/tablet:
Digitate nel box di ricerca di Cortana lpksetup.
Cliccate Install display languages.
Cliccate su Browse… e selezionate il file scaricato, al punto 2 della sezione Prerequisiti di questa guida, contenente il language pack della lingua italiana.
Cliccate Next.
Selezionate I accept the license terms e cliccate Next.
Attendete l'installazione del language pack, potrebbero volerci diversi minuti.
Al termine dell'installazione cliccate Close.
Digitate nel box di ricerca di Cortana Control Panel.
Recatevi in Clock, Language, and Region > Language > italiano (Italia).
Cliccate Make this the primary language.
Nel messaggio per confermare il cambio di lingua cliccate Log off now. Windows 10 vi disconnetterà dall'account.
Entrate nuovamente nell'account.
Digitate nel box di ricerca di Cortana Pannello di controllo.
Recatevi in Orologio e opzioni internazionali > Lingua.
A sinistra cliccate Cambia data, ora o formato dei numeri.
Recatevi nella scheda Opzioni di amministrazione e cliccate Copia impostazioni…: visualizzerete una nuova schermata.
Mettete la spunta a Schermata iniziale e account di sistema e a Nuovi account utente – cliccate OK.
Alla richiesta Cambia lingua di visualizzazione cliccate Riavvia ora.
Il sistema operativo verrà riavviato. Al termine Windows 10 sarà completamente in italiano. Per aggiornare le app, aprite il Windows Store ed avviate una ricerca degli aggiornamenti.
Avete mai cambiato la lingua del sistema operativo? Fatecelo sapere nei commenti.
Articolo di Windows Blog Italia