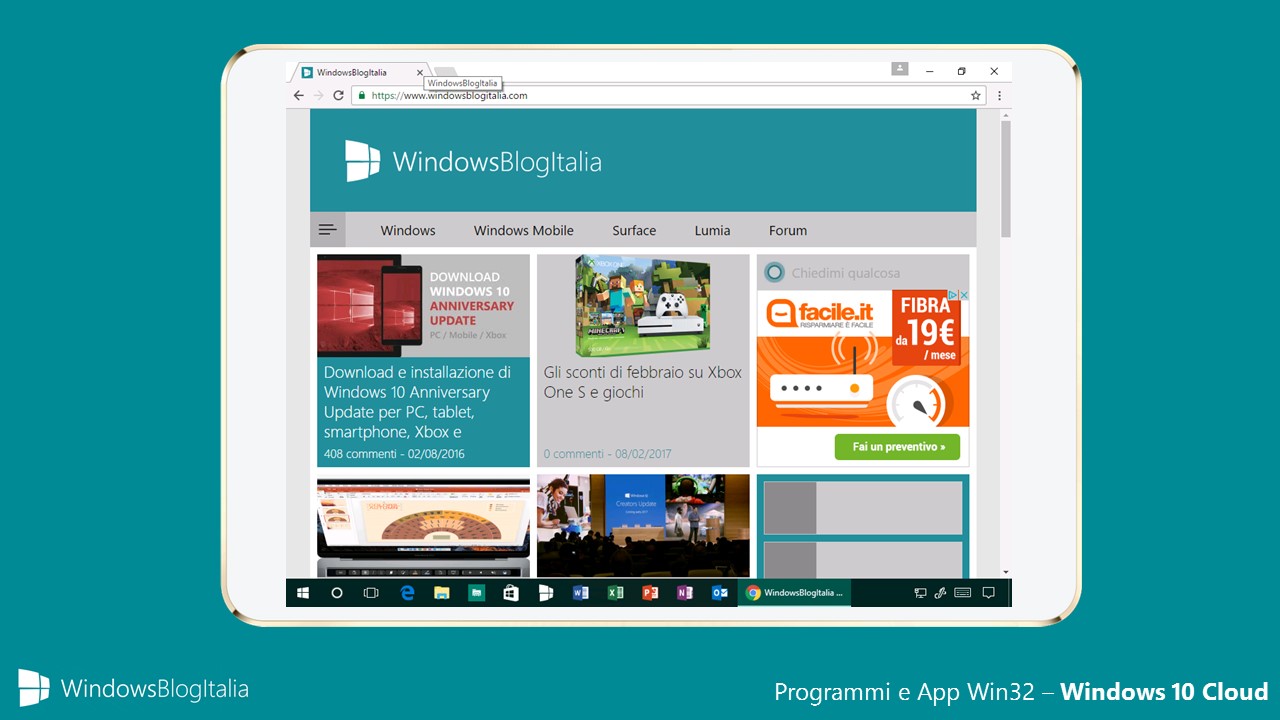 Negli scorsi giorni vi abbiamo mostrato in anteprima Windows 10 Cloud, con tanto di applicazioni Win32 in esecuzione. Nel frattempo sono trapelate in rete nuove informazioni e i file per l'installazione di Windows 10 Cloud, rivelando il blocco di queste ultime.
Se da un lato non è ancora chiaro quale sia l'effettiva natura di questa particolare edizione di Windows 10 – se gli applicativi Win32 saranno (solamente) distribuiti tramite lo Store o meno – sono appena emerse le prove che il blocco attuale è facilmente aggirabile.
In altre parole, Windows 10 Cloud è sbloccabile già adesso, applicando una sorta di Jailbreak che lo trasforma in una versione Pro a tutti gli effetti, in grado di lanciare qualsiasi tipo di eseguibile, installato tramite porting o nativamente.
Here is Chrome, and the Desktop App Converter(a Centennial app) running on Windows Cloud. pic.twitter.com/NPWkNVTeXo

— Longhorn (@never_released) February 8, 2017
Alcuni utenti sono già riusciti a far girare Google Chrome, mostrando che con un po' di modding sarà possibile ottenere tutti i vantaggi di Windows 10 senza rinunciare a nessun programma, ma è anche vero che il pregio di questa versione dovrebbe essere la sicurezza e la facilità d'uso che contraddistinguono le applicazioni dello Store.
Farà la fine di Windows RT senza i programmi Win32? Diteci la vostra nei commenti.
Articolo di Windows Blog Italia
Fonte | Windows Central