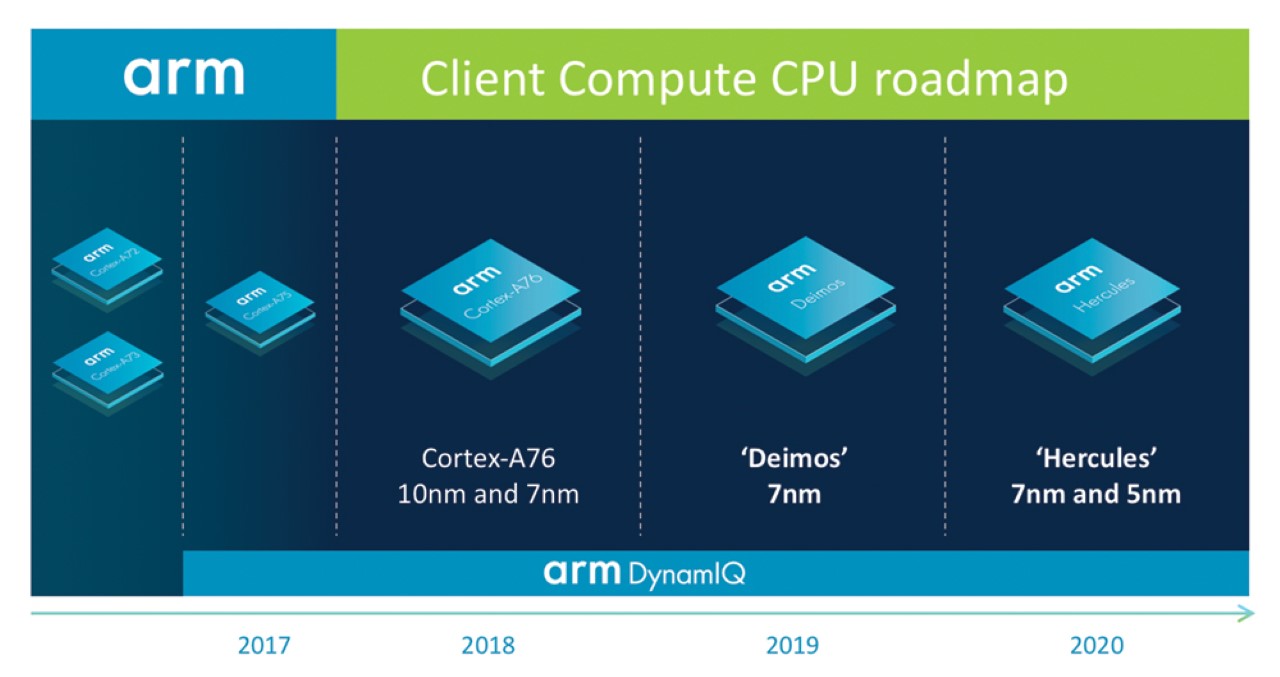 Dopo aver annunciato l'arrivo di Cortex-A76 a giugno, paragonandolo a un processore della serie Core di Intel, ARM ha svelato la sua intera roadmap di CPU.
ARM sfida Intel
Dopo aver preso il dominio del settore mobile, ARM è convinta di poter sfidare Intel anche nel suo terreno di gioco, dei PC – o, meglio, dell'architettura x86. Il produttore di CPU mobile ha intenzione di condurre una battaglia serrata anche in questo settore annunciando un'intera roadmap di processori in arrivo da qui al 2020 e contraddistinti da un grosso boost nelle performance che sarà possibile ottenere grazie all'affinamento del processo produttivo.
Our roadmap of client CPUs has been designed to take advantage of the disruptive innovation 5G will bring to all client devices. This combined with innovations from our silicon and foundry partners will enable Arm SoCs to break through the dominance of x86 and gain substantial market share in Windows laptops and Chromebooks over the next five years.
Si parte dal nuovo Cortex-A76, che avrà un incremento delle performance dal 35 al 70 % rispetto a Cortex-A75, conservando una efficienza e quindi una durata della batteria ottimale. Ma ARM ha nei suoi piani già i due successori, Deimos a 7 nm e Hercules a soli 5 nm, che avranno rispettivamente uno step di performance del 15 %.
Our mission continues to bring the best of the mobile world to the PC, with great battery life, sleek innovative form factors, and Windows 10 for on-the-go productivity.
Insomma, ARM sta seriamente pensando e scommettendo che il futuro dei PC Windows 10 passerà da questa architettura. Siete d'accordo? Secondo voi il monopolio Intel sui PC sta per finire? Diteci la vostra nei commenti.
Articolo di Windows Blog Italia
Fonte | ARM